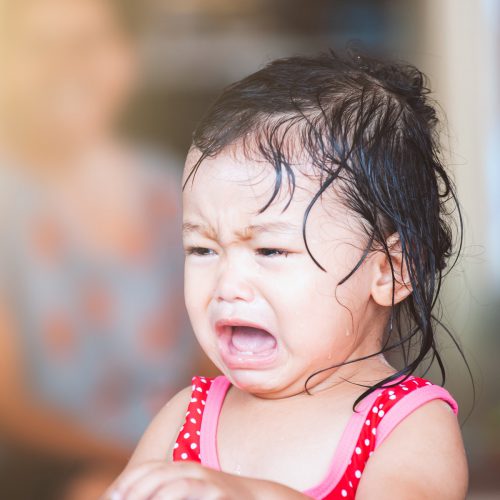 Learning to swim is an important skill that will help keep your children safe throughout their lives. But what happens when your child doesn't want to learn? Here are five excuses kids make to avoid swimming lessons and tips to help them get past their reluctance.
It's Too Cold To Swim
As winter approaches, your little ones may say it's simply too cold to go swimming. After all, no one likes being wet and cold! Fortunately, that's not a problem at Bear Paddle Swim School.
Our facility is always comfortable for swimmers and their families. We have a climate-controlled clubhouse where swimmers and family members can wait for their classes. The pool itself is 90 degrees, and our changing rooms feature swimsuit dryers and hair dryers.
Next time your child argues that it's too cold to learn to swim, you can say that our pool is likely warmer than your house. Attending swim school may become a welcome break from the cold winter air.
I Don't Have Any Friends There
Joining a swim school may seem a lot like going to a new elementary, middle, or high school. Your kids may be worried that they won't have any friends and won't fit in. Younger children may also experience separation anxiety. This can be a one of the easier excuses kids make to avoid swimming to overcome.
You can reassure your younger children that you will be participating in their classes. This helps them stay safe and feel more confident in the water.
Older children who are worried about making friends can also put their minds at ease. We structure our lessons by age and ability, so your children can be sure they'll be swimming with their peers.
Bear Paddle Swim School creates a fun environment that fosters friendships among our swimmers, but we also welcome your child's existing friends. Take advantage of our refer-a-friend program to get a $25 gift card.
Swimming Is Scary
It doesn't have to be! Many children (and adults!) are afraid of the water, or they are afraid of specific skills, like swimming underwater or without a floatation device.
Reassure your child that there will always be an adult keeping them safe. Parents participate with younger children, and instructors are always at an adequate ratio to ensure swimmer safety.
At Bear Paddle Swim School, we build skills gradually and teach children important safety skills like pulling themselves out of the pool and learning flip to breathe. Swimming should be fun, not scary, and we strive to make sure every child feels confident in the water.
I Don't Need To Learn To Swim
Perhaps you live in a land-locked state or even a dessert. Maybe you don't know anyone with a pool. Your child may use a hypothetical lack of swimming opportunities and risk as an excuse not to learn to swim.
Remind your children that you want them to learn to swim because you love them and want to make sure they stay safe. Let them know that you want them to be prepared if they ever encounter a situation where they fall into the water, even if that doesn't seem very likely.
Also, make your children aware of all the opportunities swimming brings. In addition to being a fun activity in its own right, swimming is a prerequisite for things they might want to try in the future, like kayaking and snorkeling. It's also required for some careers. If you have a budding marine biologist or Navy sailor, let them know that swimming is an essential skill for them to master.
Swimming Isn't Fun. 
If your child really enjoys a particular sport or activity, he or she may use that as an excuse not to learn to swim, e.g., "I'd rather go to gymnastics!" If possible, don't make your child give up a favorite activity in order to learn to swim. That way, there won't be bitterness involved.
Let your children know that swimming is a fun activity that will allow them to spend time with friends, whether at the swim school or at pool parties in the future. It's also great family fun. Incorporate games into your family swim time to help your child build enthusiasm for swimming.
Learning to swim is a life-saving skill, but it should also be enjoyable. After reading these 5 excuses that kis make to avoid siwmming and your child still needs help, reach out to Bear Paddle! If your child is reluctant to learn how to swim, contact us to see how we can help.