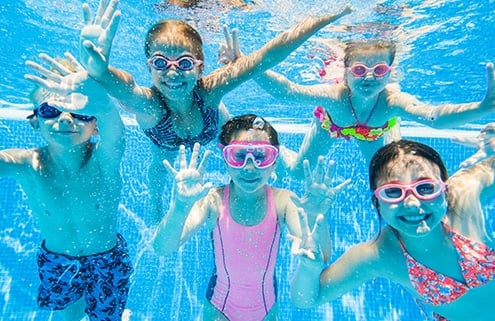 You've decided to enroll your child in swimming classes. Great! Now it's time to figure out what swim accessories for kids should I bring? It's an exciting time for your child, and you'll be helping him or her gain an important life skill.
But you may have some questions, like, what type of swim accessories for kids should I bring to my child's swim class? Are goggles acceptable? What about my child's favorite toys? Here's a list of seven things you should bring along.
Each child, regardless of age, needs to have a properly-fitting swimsuit. You'll want to make sure it's snug enough that it won't slip during classes, but not so tight that it's uncomfortable or restricts your child's movement. 
1. A Swim Diaper is necessary for children that are not potty trained yet.
In addition to a swimsuit, all children under the age of three are required to wear a swim diaper in the pool. That helps us avoid any bathroom mishaps and keep the water clean for everyone. Please also make sure you allow time for children of all ages to use the restroom prior to their lessons. 
2. A towel should always be handy to keep your child dry after lessons!
Your child will need a towel to dry off with after classes. Although we have a warm saltwater pool, your child will still be most comfortable drying off after his or her class, and drying also helps prevent slipping as they walk.
Additionally, we have shower stalls for students to use, and we require every student to rinse before and after entering the pool. Your child will want to use a towel to dry off after rinsing, too. 
3. A Set Of Swim Goggles can help keep the salt water from the pool out of your child's eyes.
Our Pool Deck has all the teaching tools your child needs to use during lessons, but you may choose to send your own goggles. While our saltwater pool is gentler on the skin and eyes than traditional pools, goggles still help your child feel more comfortable in the water.
Goggles work well to prevent chlorine from entering your child's eyes. And they can even help improve your child's technique. New swimmers are often more at ease when they can see in the water, and it doesn't hurt their eyes. 
4. Hairband or Swim Cap to keep your child's hair out of their face while they practice their swim strokes.

If your child has long hair, tying it back with a hairband or swim cap will keep it from becoming a nuisance to your child while he or she is swimming. It's best to keep hair out of your child's face so he or she can see properly and focus on the lesson. 
5. Gym Bag and Plastic Bag to carry all of your child's swimming accessories, and wet swim suit after class!

You'll want to have a way for your child to easily carry his or her swim gear and keep it all together. A gym bag works well for this.
Consider also sending a plastic bag for wet clothes. That way, everything in your child's gym bag won't get soaked. 
6. Mask to wear outside of the pool to ensure safety for all our families at Bear Paddle!
We all need to do our part to keep each other safe and prevent the spread of COVID-19. All our team members wear masks, and we ask parents to do the same. Children will not be required to wear masks during lessons.
Being prepared for lessons will take the stress off of parents and allow both you and your child to focus on the fun. Pack the above essential items, and you'll be all set for your first day of swim classes.