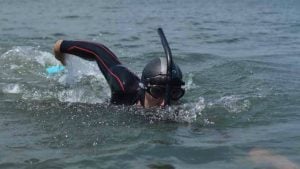 Ben is 65 days into this experience. However, due to the threat of encountering not only one but two Typhoons, Ben and the crew made the decision to head back to land and wait for the inclement weather to pass. "Our lives at sea are pulsing at the beat of the weather. Everything we do and how we do it, is influenced by it."
After receiving the green light to return to the ocean the crew headed right back out to the location they left off at to begin again! Talk about dedication!
In recent posts, Ben shares some insight on why he swims, how we connect with ourselves and the human race as well as his perspective of the ocean!
While he continues to make progress he still has a ways to go. There is nothing between Ben and the open ocean. Well, maybe just a passing whale.
Check out Ben's Progress at Ben Lecomte The Swim
Words of encouragement and questions are always welcome! Stop by! Say Hi! Check out the pictures of the sea life they encounter!