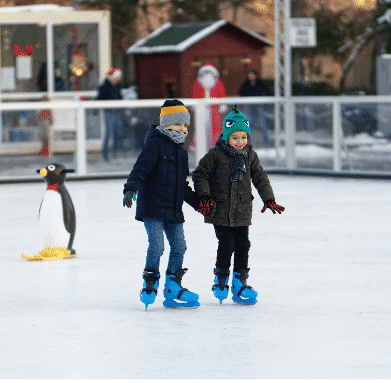 Here are some of the best places to keep kids active in Chicago during the winter months. Winter in Chicago is known for being brutal. It's tempting to spend the whole curled up indoors and wait for spring to arrive. We know that's not healthy, though, particularly for our children.
Kids need to stay active all year long, so what can you do to keep kids active despite the winter chill? Thankfully, there are some great places in Chicago to keep kids active in winter. Here are our best picks.
Ice Skating
Chicago boasts numerous ice rinks that you can take advantage of to give your kids a bit of winter fun. There's no admission charge for the McCormack Tribune Ice Rink in Millennium Park, and free lessons are even offered from time to time. If your children don't have their own skates, you can rent them at the rink.
Alternatively, try the Skating Ribbon in Maggie Daley Park. Admission there is also free, and you can enjoy the scenery while you skate. Chicago has many neighborhood rinks, too, and even a rooftop rink at the Chicago Hotel, where all proceeds are donated to charities serving local children.
Visit A Museum
Visiting a museum may not immediately come to mind when thinking of keeping your children active, but it can actually be a great way to entertain them while they walk through the building. The Chicago Children's Museum even includes a fossil pit, where your child can dig for fossils, a Tinkering Lab, and various visual and performing arts activities.
Taking your children to a museum gives them a chance to exercise their bodies and their minds. Since it's all indoors, you won't have to worry about them getting too cold, and there's plenty to keep them occupied for a long period of time.
Check Out An Indoor Play Area
Chicago has many great indoor play areas. Your kids can take advantage of an indoor trampoline park, climbing walls, bumper cars, or even an escape room.
If you take an outing with another family, the adults can take turns watching the kids inside a mall, like Northbrook Court, which includes play space for the kids.
Go To The Zoo
Visiting the zoo is something else that may not come to mind as a winter activity, but there are lots of indoor exhibits. Your children have an incentive to move around so they can see all the animals.
Lincoln Park Zoo also has an indoor playground and climbing adventure. Admission is free, so you can visit as often as you like.
Check Out An Indoor Garden
Chicago is home to several indoor gardens that make a beautiful escape from the winter weather. Try Crystal Gardens or Chicago Botanic Garden.
Garfield Park Conservatory remains at 80 degrees, even in the winter. Admission is also free, although they do take donations.
Go Swimming
Swimming may be the last thing on your mind when the wind is blowing and the ground is covered in snow, but winter is an excellent time to swim. If your children haven't started lessons yet, you can give them a leg up by starting them before warm weather arrives. Swimming lessons can be one of the best ways to keep your kids active in Chicago during the winter.
It's important to make sure you choose a facility that keeps water warm. At Bear Paddle Swim School, our pool stays at 90 degrees, so you don't have to worry about your child being chilled. Our changing area also includes swimsuit dryers and hair dryers, so your child leaves the facility completely dry.
Additionally, we have a climate-controlled Clubhouse, where parents and siblings can wait during lessons, and you can even rent it for a pool party on the weekend.
Whatever you choose to do, make sure your children stay active during the winter. It's important for them to keep moving regardless of the temperature outside. If you'd like to learn more about swimming at Bear Paddle Swim School during the winter, use our easy online form or call us today.