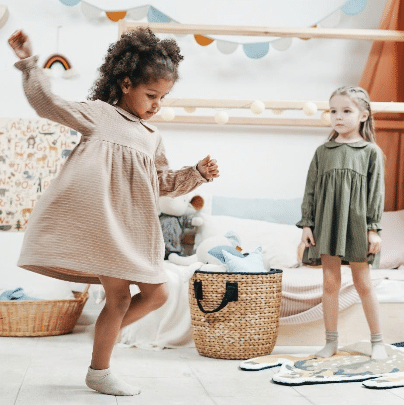 Winter can make us all feel a little lazy. In many cases, curling up on the couch seems a lot more tempting than getting exercise. It's the same for your children.
We all know that it's important for children to stay active, but what do you do when the weather outside is just too cold to bear? Here are some ideas for fun indoor games for kids that will help your kids stay more active in winter. 
Musical Chairs
You probably remember this game from your own childhood. If you have a room big enough for a bit of running, musical chairs is always a favorite. Simply place a group of chairs in a circle with the backs touching, and make sure there is one fewer chair than there are players. 
Put on some fun music and have the children walk around the chairs in a circle. When you stop the music, they'll all need to scramble to sit down. Whoever is left without a chair is out. Remove a chair after each round and keep going until there is only one chair left. The child who sits in it is the winner.
Have a Hula Competition
If space allows, hula hoops can provide loads of fun. Give each child a hula hoop and see who can keep it spinning the longest. If your children are particularly proficient, take it up a notch by having them spin the hoops around their arms or legs instead of their waists.
You can also use the hoops to play a variation of "One If by Land, Two If by Sea."  Place the hoops on the ground and have each child stand behind one. Call out "land," "sea," or "air."  When you say "land," the children jump into the island within their hoops. If you say "air," they jump straight up, and if you say "sea," they run in a circle around the hoop. Hula hoops are a very fun indoor game for kids.

Play Charades
Children love engaging in make believe, and a game of Charades gives them the chance to use their acting abilities to have their friends or family members guess what they're pretending to be.  You can tailor the game to the interests and ages of the players.
Your children can act out their favorite animals, sports, or movie characters. Remind them that they can't make any noises and they have to do it all through movement. Playing Charades ensures your children will get some activity in, and it can be played in a smaller room than some of the other games.
Freeze Dance
Get your children up and moving to the beat with Freeze Dance. Play some of their favorite songs and let them dance away, but when you stop the music, they have to freeze in place. Anyone who moves is out.
Keep the game going until you get down to one player, who wins. In addition to all the exercise your kids will get, there are sure to be loads of giggles when they see all the funny positions the players end up "frozen" in.
Marco Polo
If the roads are clear, why not head to an indoor pool like the one at Bear Paddle Swim School? Swimming can be a welcome break from the cold, as long as the facility is heated and the water is warm. We offer Family Swim to the families of our actively enrolled students.
If you haven't signed your children up for swim lessons, why not give it a try? Your children will benefit from the aerobic exercise, and if you take advantage of Family Swim, the whole family can get in on a game of Marco Polo. Maybe some other families will join in, too, for even more fun.
Children need to be active, regardless of the temperature outside. If your kids are getting a little sluggish, give a few of these games a try. They'll be up and moving in no time!