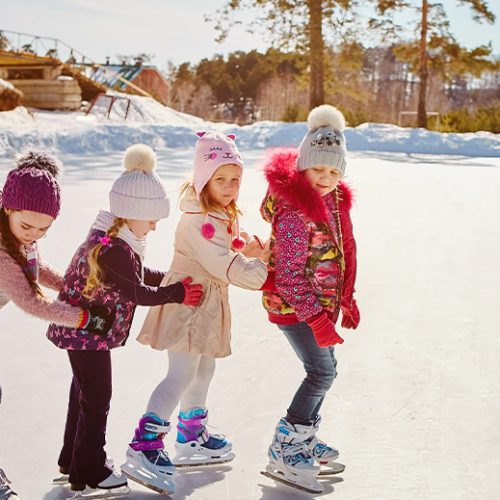 Winter is almost here, and so is cabin fever. Not to worry! Here is a great list of winter activities for kids to enjoy in the Cincinnati region.
Winter Ice Skating Activites For Kids

Cincinnati boasts many ice skating rinks, so whether you'd prefer an indoor or outdoor rink, you're sure to find an option that works for you. Check out the Goggin Ice Center for affordable events like their Friday Noon Skate and KidsSkates. Alternatively, head to Kings Island for a magical skating experience.
Spend Time In Nature
During the winter? Really? Sure! We recommend making a visit to the Cincinnati Nature Center. They have programs and events all year long. Click on their calendar to find events like family field trips, feeding snakes and turtles, hikes, art shows, crafts, and more! If your kids can't get enough of cool animals, spend a day at the Cincinnati Zoo. They'll be able to see animals enjoying the winter or finding ways to get cozy and warm. Starting In January, you can even watch Penguin Parades on the weekends and some holidays!
Visit A Museum
Here in Cincinnati, we're fortunate to have a variety of really great museums. There's sure to be one that piques your family's interests. Do you have a child who dreams of being a firefighter? Why not head to the Cincinnati Fire Museum? They even offer birthday parties with the option to ride in a real fire truck! Are you raising a future pilot? Take a trip to the National Museum of the United States Air Force. If you have older children, taking a ride on the flight simulators is sure to be a memorable experience! Is art more your style? Taft Museum of Art offers Family Funday, where you can participate in creative activities.  Prefer sports? Make a stop at the Cincinnati Reds Hall of Fame & Museum. They even offer free admission to teens on certain days. These are great winter activities for kids in Cincinnati.
Get Some Exercise
We all know that when kids are cooped up, they can get a little stir crazy. That's why it's great that Cincinnati has so many places kids can go in the winter to burn off some of that energy! Hit the slopes for some skiing, snowboarding, or snow tubing at Perfect North Slopes. They even offer a variety of children's lessons to help your kids become comfortable on the slopes. Has your child always dreamed of being a superhero? iFLY offers a unique experience that lets your child fly like their favorite superheroes! Just step into their wind tunnel, and you'll be flying on air! Does your child have visions of becoming a knight? Take up fencing with the Queen City Fencers Club. They offer lessons, camps, and even opportunities to compete!
Take In A Show

For a calmer experience, take in a show at one of Cincinnati's many theaters. Visit The Children's Theater of Cincinnati for kid-friendly shows about icons like Harriet Tubman and Martin Luther King or fun takes on classic fairy tales. Love ballet? Take your children to see a professional show at Cincinnati Ballet. Cincinnati Made and The Nutcracker are coming up soon.
Go For A Swim
Don't forget that winter is still an excellent time to swim. As long as you have access to a heated pool, swimming is great exercise. At Bear Paddle Swim School, we always keep our facilities and our pools warm. It's like your own mini tropical vacation! Are you interested in enrolling your child in winter swim lessons? Contact us here, and we'll be happy to get you all set up!
We even offer a complimentary swim lesson to give you a chance to experience our school and allow our instructors to place your child in the appropriate swim level.