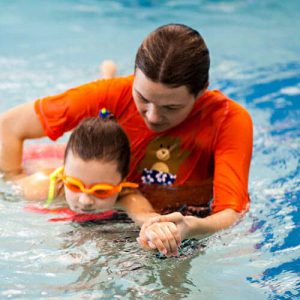 How Swimming Helps Kids Do Better in School
Looking for reasons to get your kids into swimming? Several studies recently have shown there are a number of educational benefits of swimming. This means that swimming doesn't just teach your kids about proper water safety and get them exercising – it also helps them do better in school. Here's why:
The Academic Value of Learning to Swim
Studies by British and Australian researchers have shown interesting trends between those who participate in swimming lessons at an early age and their academic careers. While it's difficult to say that there is a direct correlation between the two, there are several different areas where swimming appears to help children learn better.
For instance, learning to swim can be scary and challenging for young children at first, but it teaches them the value of taking on challenges and persevering. Second, swimming requires coordination and multi-tasking, which is useful for students in school who need to learn to take notes, listen to lectures and solve problems.
Swimming is a uniquely tactile experience, which can also help teach small children about situational awareness and their surroundings. When they head to school, studies show that they are better prepared to deal with sensory learning as they experience new things.
Other Advantages of Swimming Lessons
Of course, beyond the test scores there are other benefits to participating in swimming classes. For instance, they help build children's ability to socialize and participate in team exercises from a young age. This can help them navigate group projects at school and make more friends, both of which contribute to higher educational achievements.
In fact, the earlier a child begins taking swimming lessons, the more social skills they will have developed by the time they start school.
Plus, the health benefits of exercising regularly have long been known to improve test scores in math, reading comprehension and other subjects. Children who have a productive outlet for all their energy are more likely to make it through lectures without a problem.
These are just a few of the ways that swimming lessons help young children take on the next stage of their educational journey. Swimming classes started in infancy provide kids with more tools for facing their fears, forming new relationships and overcoming challenges throughout their academic career.
Bear Paddle Swim School offers a wide range of swimming classes for children of all ages. Learn more by exploring our site or contact us today.