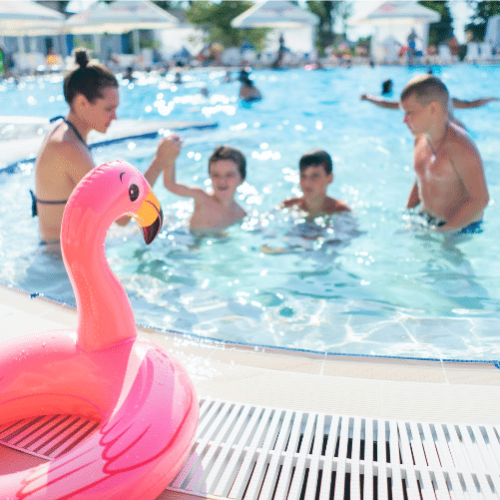 Parents and guardians are paramount to their children's success as swimmers. Even if your child is enrolled in swim lessons, your involvement is still critical.
Parents should be in the pool with young children during their lessons, and odds are your children will want to be in the water outside of lessons, too.
You have an important role to play in helping your child in the water. Here's what you need to know.
Start Small
Helping your child in the water doesn't have to mean being in a pool or lake. In fact, it's a great idea to help children become comfortable with the water by playing in the bathtub.
Taking a bath is one of the first ways your child will experience water. Make sure it's fun. Add lots of toys, and when your child is ready, start teaching him or her to blow bubbles in the water.
Helping your child enjoy bath time will also help him or her be excited about learning to swim. Playing in the tub is also helpful for children who are afraid of swimming. It's a comforting way to get used to the sensation of being in the water.
Participate In Lessons
Small children should always have a parent in the water. Our Introduction to Teddy class is designed for children six months to three years old, and parents are required to participate. You'll help your child learn to blow bubbles, kick, and float with assistance.
In the next level, you'll also help your child learn to do a tummy pool exit. These are all skills that will help your child stay safe in the water. Remember, you should always be close enough to touch a young child or a weak swimmer.
Play Games
Children of all ages love to play games. Whether you're racing rubber duckies in the bathtub or having an older child dive for rings at the bottom of the pool, playing games is a fantastic way to help your child have fun and be comfortable in the water.
When you play water games with your children, they practice their swimming skills without even realizing it! To them, it's just good fun. If you have several children, try playing group games like Sharks and Minnows or Marco Polo.
Make Water Time Family Time
We always encourage family swim time. If you turn swimming into a family activity, children see it as both quality time and as simply a part of their lives. That makes a huge difference to a fearful child, and it fosters a lifelong love of swimming.
Normally, we offer Family Swim to help our students get some extra practice and spend quality time with their families. Unfortunately, our Family Swim is temporarily suspended due to COVID-19, but we still encourage you to spend time enjoying the water with your family.
If you have a backyard pool, set aside time every week to swim with your family. If you don't, is there a nearby lake, ocean, creek, or pond? You can simply play at the edge or even have a picnic nearby. You're still spending time as a family and getting your children comfortable with being near the water.
Put Safety First
While we want children to have fun, safety is always of supreme importance. Never let your children swim alone. If they will be swimming with friends, make sure there is a designated adult who will be watching the water, free from distractions.
Keep pools covered and fenced off with locked gates. Teach your children that they must always ask permission before entering the water, and establish simple safety rules, like not running near the pool and always wearing a life jacket when engaging in activities like boating and jet skiing.
We believe swimming is a life skill that everyone should learn. Following the above tips will help you help your child in the water.