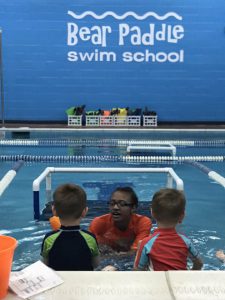 The month of December the boys started taking swim lessons at Bear Paddle Swim School We are planning a cruise during the winter of 2019 & I want to make sure the boys can swim confidently by then.
Before their first class they were reluctant to even dump the cup of water on their head during the "This is the way we wash our hair" exercise. They would feed off of each other's fears and become so scared.
Just three classes in and the boys were putting their faces in the water! I was so shocked & so proud. I also uncovered that Jax let go of some of his other sensory hang ups while concurring his fear of the water.
Read more: https://ddotts.com/2018/01/03/bearpaddle/