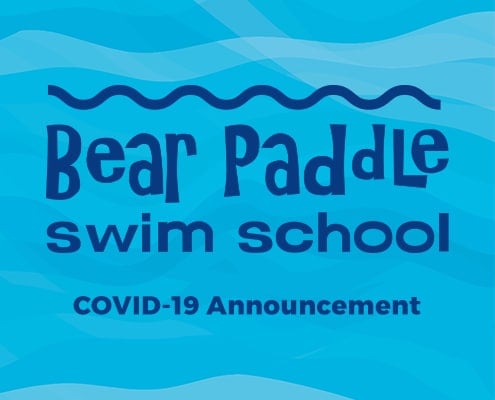 Like all of you, we are anxiously awaiting the day when we can safely get back to some sense of normalcy.  At Bear Paddle Swim, that means altering our operational model to ensure your family has the safest possible environment.
Unfortunately, we still do not have a re-opening date.  When that day comes, you will notice several changes designed to keep families and team members safe.
Per the CDC, "There is no evidence that COVID-19 can be spread to humans through the use of pools and hot tubs.  Proper operation, maintenance, and disinfection of pools and hot tubs should remove or inactivate the virus that causes COVID-19".  Please visit http://www.cdc.gov for more information.
In addition to strictly following the recommendations and guidelines of the CDC and local government agencies, we have also instituted the following changes.
The swim lesson schedule will be staggered so that we can keep the number of people in the building under 50.

Team members and customers will be checked for fever upon entry.  Anyone showing signs of illness will not be permitted in the school.

Team members will be required to wear masks while in the location.  Although children will not be required to wear masks in the pool, we will be asking that parents wear masks while on site.

Spacing for parents to observe swim lessons will be spaced 6-feet apart, and we will be asking that only one parent come to school with their child.

We will be using every other swim lane in the water.

For families who are uncomfortable having their child share a swim lane with other children, we will be offering discounted rates on our 1-1 swim lessons.

We will staff an additional team member to focus on disinfecting public spaces and executing our rigorous cleaning protocols.
At Bear Paddle, we pride ourselves on having the best pools available to keep your children as safe as possible.  This has not changed.  From our state of the art salt water oxidation system that organically generates chlorine to kill germs and viruses on contact, to our advanced filtration system that filters water down to 1 micron (most pools can only filter to 20 microns), to our Ultraviolet light disinfection system for maximum protection.
If you have any questions in regards to how Bear Paddle Swim School will keep you and your family safe when you visit one of our locations, please look through our updated FAQ section. We've added new safety procedures that will be active across all Bear Paddle locations once we re-open.
Please take care of yourself and your family. We will be here when it is safe to operate, and we can't wait to see you soon.
John P. Reilly
President and CEO
Bear Paddle Swim Schools