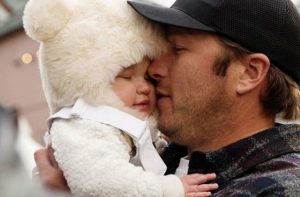 Bode and Morgan Miller open up about drowning death of daughter Emmy
Seven weeks ago, Bode & Morgan Miller lost their daughter Emmy to a pool accident. Our hearts are with the Miller family during this tragic time. The Miller family took this terrible accident as an opportunity to spread the importance of drowning awareness in hopes of preventing accidents with other families. Drowning is the number one cause of accidental death for infants and young children between the ages of 1-4.
Bear Paddle wants to emphasize the importance of practicing water safety with your children through swim lessons, safety precautions, and always staying alert when around water. Our mission is to save lives by teaching children how to swim. Learning water safety skills at a young age is crucial as children are exposed to water every day, no matter where they live.
Parents play an integral role in the early stages of swim safety. We educate our parents on the best teaching methods, safe habits, and skill development. Our Teddy Bear Program helps prepare infants and toddlers for all types of water environments; bathtubs, hot tubs, pools, water parks, lakes, rivers, streams, and oceans. Regardless of the age of the swimmer, our Level 3 – Flip To Breathe is the minimum swimming skill every person should achieve.
Learn more about Bear Paddle's teddy program that prepares infants and toddlers with the ability to perform life-saving skills needed to survive in a water emergency.