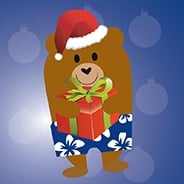 Paddle's Toy Drive
Bear Paddle and Toys For Tots are teaming up to bring joy to children this holiday season. Families can help us by bringing in new unwrapped toys from Wednesday, November 7 – Wednesday, December 5.
About Toys For Tots
Children are one of our nation's most valuable resources. Today's children are tomorrow's leaders – civic, business and social. Alarmingly, approximately 15 million America children live in poverty. Studies reveal that growing up in poverty can have an adverse psychological impact on a child. One of the adverse impacts is low self-esteem – a by-product of little or no hope for the future.
Each child has a choice of two paths to the future. One path leads to a productive life as an asset to the community. The other path leads to a life of dependency on the community for support. Without outside help, the path of least resistance is too often the path to a life of dependency.
The critical social issue is the identification and pursuit of programs, which will create or raise the self-esteem of children, give them hope for the future and help steer them toward productive lives. One of the best means of dealing with these three poverty by-products is through mentoring programs. Since it is not possible for all children who live in poverty situations to have the benefit of mentoring programs, alternative means of doing the job must be pursued. Fortunately, alternative programs exist. Toys for Tots is one such alternative. It is a unique passive mentoring program that provides a ray of hope for the future.
The new toy which millions of needy children receive each Christmas from Marines, through the Toys for Tots Program, delivers a message of hope. By being excellent role models and setting an example for others to emulate, Marines, through Toys for Tots, perform passive mentoring. Economically disadvantaged children who receive toys through the Toys for Tots program have an opportunity to observe first hand how young men and women, just like themselves, have achieved success. Youngsters readily recognize that Marines achieve their success through adherence to the highest standards of discipline, grooming, patriotism, physical fitness and moral character.