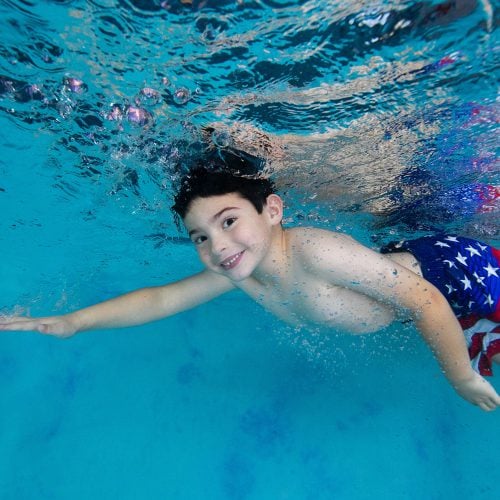 The summer brings a lot of fun in the sun, including the upcoming 4th of July weekend, which means it is the perfect time for cooling down in the water! Whether you and your child are going to the lake, beach, pool or other body of water, it is always best to be prepared. As you prep for summer fun, keep these seven must know summer water safety tips for kids in mind.
1. Always Have an Adult
Your child should always be monitored by an adult when they are playing in or around the water. This adult could you be you, a parent, guardian or other responsible party. As the child plays, this adult should take on the responsibility of monitoring the child for any signs of danger.
2. Swim with a Buddy, Never Alone
The monitoring adult can also take on the role of swimming buddy. This buddy may also be a friend, but they should feel comfortable and confident in the water and know how to swim so they can react if the situation calls for it. Even if your child has a swimming buddy, however, remember there should always be an adult nearby and watching.
3. Know Your Surroundings
Even if your child is only playing around water, there are situations that can put them in danger. For example, if your child suddenly falls in the water, the monitoring adult needs to be able to spring into action to help. The child and adult should both be aware of their surroundings to keep everyone safe.
4. Do Not Dive!
Diving may seem fun and exciting, but there are many dangers. Diving into a shallow pool means the child could hit their head on the bottom, knocking them unconscious or causing injury. Speak with your child about the dangers of diving and remind them to always go feet first into any body of water, and then have the monitoring adult enforce this behavior.
5. Watch the Weather
Part of knowing your surroundings means you also watch the weather. Storms can often spring up suddenly, and when they bring with them strong winds, lots of rain and lightning, being in a body of water can quickly become dangerous. Even on sunny days, know that your child should be protected by drinking lots of water and wearing sunscreen.
6. Know the Signs of Drowning
Drowning doesn't look like how it is often portrayed in movies and television. If a child, or adult, is drowning, you will notice the following signs:
Head low in the water, with the mouth at the water level
Head tilted back with an open mouth
Unfocused, glassy or closed eyes
Vertical in the water but not using legs to swim
Gasping for air or hyperventilating
Unable to swim in a particular direction or roll over on their back
Climbing an invisible ladder
If you notice any of these signs, react immediately and get help. Have someone call 911 in the event of an emergency.
7. Learn CPR
Accidents can happen even when you take every precaution to help prevent them. It helps to be prepared to be able to react if you need to. Learning CPR can be a life-saving decision, and there are many free classes available within the community. At Bear Paddle Swim School we offer CPR classes regularly to keep your family safe.
Swim Safely and Confidently
Even with these summer water safety tips in mind, one thing to remember is that water safety starts with your child feeling comfortable in the water. Learning how to swim from a young age will give your child the confidence they need to remain safe in the water. To learn more about swim classes, contact us today!