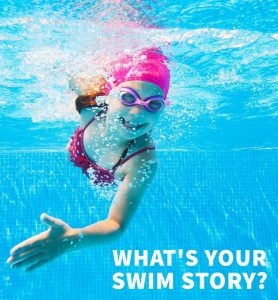 Everyone has one. It might be your childhood swim lessons, a recent vacation, or a memory from a favorite experience in water. At Bear Paddle, we want to be your Swim Story. Share your story with us today!
Spencer R.
Senior Vice President of Operations at Bear Paddle Swim School
Swimming at the Elm Creek Park Reserve all day and drinking as much Sunkist as I could get my hands on!
Mallory J.
Marketing Coordinator
The best part of swimming growing up was how much access I had to it! We were always near pools or lakes hanging out with friends and playing games. I was fortunate enough to be required to take swimming in middle school which helped greatly with survival skills. Also when I was in high school we were offered an elective of Outdoor Education. During this class we would learn how to canoe, and survival swimming techniques if there was an occurrence of a water emergency. All of these experiences helped me become a confident swimmer!
Emily E.
President at Bear Paddle Swim School
My favorite swimming memories were hanging with my three brothers at our pool. We would set up our pool like a baseball diamond, home plate being the diving board and you had to hit the ball in the pool, the best was getting an "in pool" Home run! Spending every summer day outside in our pool was the best! And let's not forget to mention night swimming, it is still one of my favorite things to do! #SwimStory
George T.
Regional Manager at Bear Paddle Swim School
Some of my favorite memories that I recall are from my early years on a swim team in the town I grew up. I had never done any real 'swimming' until this park district swim team. Being able to be a part of a team, become good at something, and spend weekends at swim meets throughout the suburbs was really cool. I developed some lifelong friends and skills that have gotten me to where I am today! #SwimStory
Rauf T.
IT Specialist
I remember my favorite childhood swim story! I was in Turkey visiting my family and my uncle would always go snorkeling near our beach house and come back with relics from long, long ago he found around the shore. I always wanted to go with him but he warned me that it would be dangerous and that I should really take some time to learn to swim better. I took heed to his advice and practiced several different strokes and safety skills in our pool before I was ready to hit the open ocean! The thought of finding buried treasure gave me the motivation I needed to become a safe and confident swimmer! #SwimStory
Lisa H.
Training Specialist at Bear Paddle Swim School
My love of water has been since I was 6 years old. We had a neighborhood Swim Club that we would spend every day at. There my love of the sport grew. Swimming has provided me so many opportunities to see the Country and most importantly I have developed and still maintain friendships that have stood the test of time over 30 years! But my most favorite memories have to have been and hopefully continue to be on the lake with these friends. So glad my mom taught me to swim so many years ago so I can continue to enjoy this passion of mine.
Hilary G.
Manager at Bear Paddle Swim School
I don't even remember my first swim experience. I'm told my dad took me to baby swim lessons (similar to the Teddy classes at BP). It was because of this that I never had a conscious fear of water. Growing up, my family would go to the park district pool, Lake Geneva, WI, Wisconsin Dell's waterparks and family vacations to places like Florida. Swimming was part of all of those experiences. I fell in love with the water and swimming; it became my sport of choice as I joined competitive teams in middle school and then my high school's swim team. My passion for aquatics continues as an adult. Not only is swimming a really fun thing to do, but it's a lifesaving skill to have. #swimstory
Ann R.
Swim School Manager
Spending summers at the pool and the fun games my mom would teach me in the pool. I've had the opportunity to now watch my mom teach my daughter those same fun games. My most favorite family memories involve the pool. #swimstory
Trey B.
Assistant Manager at Bear Paddle Swim School
I fell into a lake growing up and my dad scooped me out of the water, then signed me up for lessons the next day. I joined my park district swim team every summer, then swam on my high school and college teams and eventually ended up being the team captain my senior year of college. So many of my favorite memories come from my experiences swimming, and I don't know where I would be without them! #swimstory